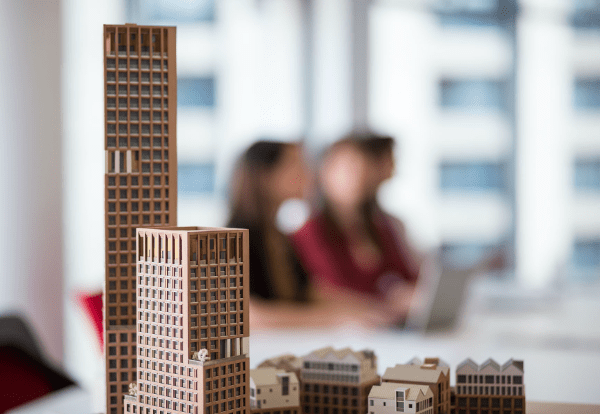 2013
CRE formed by friends Ron Persaud, 30+ years in the property sector obtaining over 4,000,000 sq ft of consented mixed use schemes throughout the UK, and Jonathan Bloomer, 30+ years in the financial sector, including 5 years as Group CEO of the Prudential, Hon Treasurer of the NSPCC, Chair of Morgan Stanley International.
Formed a JV with a Bristol based family office.
2014
Acquired unconditionally phase 1 of what would become Redcliff Quarter (RQ) in Bristol for residential development. Commenced re-planning the existing office consent.
Acquired 2.3 acres of RQ2 and commenced the planning process to re-plan the site for a predominately residential scheme with hotel and F&B.
Acquired Redcliffe Parade West (RPW), in Bristol, a block of empty, dilapidated buildings with existing office use and commenced planning for a 100% residential scheme, retaining rather than replacing a 1970's office block behind the Georgian properties.
2015
James Fothergill joins as Development Manager.
Acquired from the Sussex PCC a 1.1 acre cleared site in Worthing, Sussex without planning and commenced discussions with local authority who owned adjacent property.
RQ1 granted planning for 128 apartments and 3 retail units, followed by demolition and archaeological dig.
RQ2 planning application submitted for 500,000 sq ft mixed use scheme.
RPW, submitted planning application for 30 unit apartment scheme.
2016
Acquired the Old Brewery, Southville, Bristol (TOB), for re-development. Existing use, offices, workshops and warehousing.
Planning granted for RPW and construction contract let and development commences.
RQ1 pre-sold to A2 Dominion. Construction contract let to Galliford Try and development commences.
RQ2 last remaining two buildings purchased to complete the scheme.
Demolition of all buildings on RQ2 completed.
2017
Luke Mills joins as Project Manager.
RQ1 construction progressing.
RQ2 Planning permission granted for mixed use scheme including 300+ apartments, 186 bed hotel, 22 storey tower, cafes, restaurants, office and food hall.
RPW marketing commences.
2018
Worthing site sold unconditionally to Worth Council to allow them to continue with their wider redevelopment plans for Union Place.
RQ1 Completes and handed over to A2D.
RQ2 Pre sale to A2D for another 188 apartments completes and construction contract let to GT
RQ2 One of the Cities largest archeological digs is undertaken.
RPW construction concludes, early sales achieve in excess of £600 psf. The development wins awards from both the National Housebuilder Magazine and Michelmores for best refurbishment project, and is commended in the RICS awards.
2019
RQ2 Hotel increased by 50 rooms to 236 due to demand from the hotel operator NIX hotels.
RQ2 Construction continues on Blocks A&B.
Alongside Abri Housing, CRE are selected preferred bidder by Bristol City Council for a vacant site on Bath Road, Bristol for redevelopment into 300 apartments 50% of which will be affordable.
2020
The Old Brewery amended planning granted for 107 apartments together with 18,000 sq ft of commercial space.
Sale agreed of TOB to Abri Homes as a shared ownership scheme. CRE retained to assist with the disposal of the commercial spaces.
Appointed as DM by the owner of a site in Poole, Dorset, known as West Quay Marina.
CRE working closely with the LPA to amend various pre commencement conditions, achieved implementation of the existing consent two days before its expiry.
CRE ends its involvement with the project and disposes of its interest in Redcliff Quarter MMC LLP to the family office who continue with the project funders with a new business plan.
2021
The Old Brewery, Bristol: Sale completed to Abri Homes who will retain the apartments whilst disposing of the commercial space where CRE are retained to act as DM and oversee the disposal following construction works.
Poole, CRE has negotiated further NMA's to accommodate new designs and construction procurement utilising MMC, CRE has also introduced Homes England as funding partner with development due to commence in 2022.
RQ2 Block A&B, together with 4 large retail units and a new pedestrian street completes.
Jonathan Bloomer, in order to pursue his other PLC commitments agreed to sell his shares to parties introduced by Ron Persaud, the transaction which was completely amicable completed and subsequently Mo Cooke and Will Hammond have joined Ron and Kay as board members.
The board thanks Jonathan for his support of efforts on behalf of CRE over the last 8 years.
CRE is now very well placed to move on with existing and new projects, Ron Persaud welcomes the new shareholders and directors who bring a wealth of business knowledge, expertise and enthusiasm with them.
CRE move into new offices at Queen Charlotte House, 53-55 Queen Charlotte Street, Bristol, BS1 4HQ.
2022
TOB. Demolition occurs and the new build commences with completion due in October 2023.